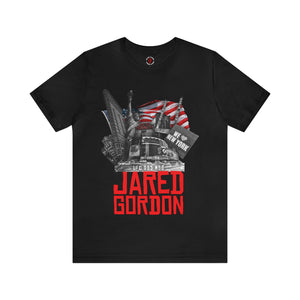 UFC 295 Madison Square Garden T Shirt
Sale price Price $37.61 Regular price
Yoo, New York!— The moment he's been waiting for since he made his amateur debut. It's time to represent Jared Flash Gordon in his hometown for this UFC fight! His grandfather was a boxer and fought in Madison Square Garden and it has always been a dream for Jared to be there. This is a very special fight and this shirt was custom designed for this moment. Support Jared in his upcoming bout with this new T Shirt! 10% of the proceeds go directly to Jareds favorite non-profits fighting drug and sexual abuse! If you will be attending the fight, we would love to see you wearing this shirt! 
Special Shoutout to his sponsors and supporters who have his back: Recreate Behavioral Network, Cannadips, Backyard Breaks, Salt Water Real Estate, Laguna View Detox, Glass Act, Dean Gordon Guitars, Jumptwist Ninja, and Household Baking!  
More Info:
If you've been following Jared's story, you know his life has had some hard twists and turns battling sexual and drug abuse. Jared has been fighting addiction and he's on an 8 year winning streak! Clean and sober, living his dream life fighting in the UFC.
The last year has been wild! With the biggest controversial decision in MMA history against Paddy Pimblett, then the no-contest head butt from Bobby Green and then getting pulled from the Jim Miller fight 1 day before weigh ins. It has been a weird year but Jared is humble and ready to end it in Madison Square Garden. He puts it all on the line for you guys! He fights for the underdogs, the addicts, the abuse victims, the depressed and suicidal. Hes overcome it all and is so grateful for the opporunity to let his life and light shine on this platform.